Perfumery Icons: René Lalique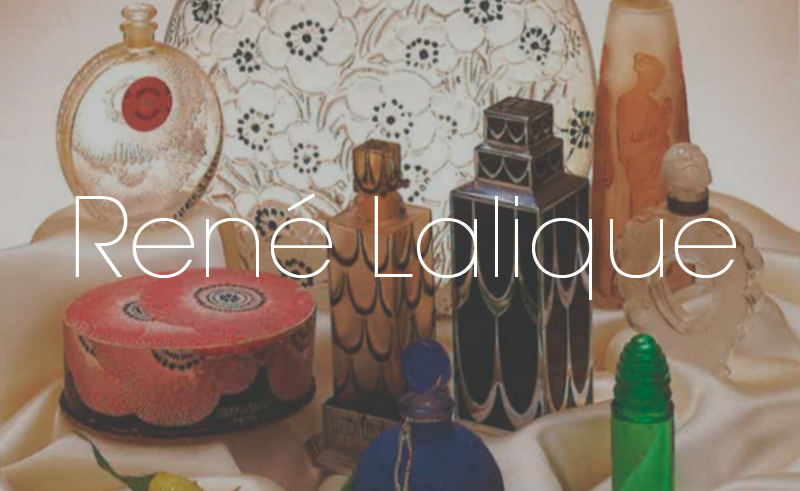 Have you ever judged a perfume by its bottle? The answer is probably yes. Nowadays, when we think about a perfume, one of the first things that comes to mind, even sometimes before its smell, is its bottle. It is common for brands to spend more on the packaging than on the perfume itself! But it hasn't always been this way. Until the late 1800s, there was almost no link between a perfume and its bottle: the same bottle could be used for more than one perfume, with no symbolic connection. This, however, changed drastically with the emergence of the Art Nouveau movement: bottles started to embody the perfume they contained, giving a shape to its smell.
René Lalique: from Art Nouveau jeweller…
René Lalique (Aÿ en Champagne, 1860 – Paris, 1945) is often considered to be the person at the origin of this change. After graduating from the École des Arts Décoratifs in Paris, he started his career as a freelance-jeweller, collaborating with well-known houses such as Boucheron and Cartier. He later started his own company, counting among his clientele élite figures such as the actress Sarah Bernhardt and the oil magnate Calouste Gulbenkian. Lalique's career reached a high point in 1900 during the Exposition Universelle in Paris, where he was named an Officer of the French Legion d'Honneur.
… to Art Deco glassmaker
The resulting attention naturally led to his work being plagiarized, which understandably angered Lalique. This eventually motivated him to turn to glassmaking. In 1907, he met the perfumer François Coty, whose boutique was located next to his on the Place Vendôme in Paris. Their meeting gave rise to a collaboration that would transform the perfume industry: for the first time, the perfume bottle was not only functional, but also embodied the perfume that was inside. Lalique's innovative mass-production techniques undoubtedly helped to commercialize their concept by reducing considerably the price of Lalique's creations.
L'Effleurt
Lalique's work as a glassmaker was mostly articulated around three themes: female figures, fauna and flora.  He actually featured all three elements in his first collaboration with Coty for the fragrance L'Effleurt. As described in the book Les Flacons à parfum Lalique by Mary Lou and Glenn Utt:
The anterior surface presents a press-molded panel, frosted and patinated where a naked female seems to be emerging from the stylised petals of a flower's corolla. The motif of a nude female in bloom, with elongated and sinuous limbs, swirls in the ethereal sky. The cap is covered with an Egyptian beetle.
Lalique's heritage
René Lalique died in 1945 at the age of 85. His grave can be found in the Père Lachaise cemetery in Paris. During his career as a glassmaker, he created over 250 perfume bottles for brands such as Roger and Gallet, Houbigant, Worth, Guerlain and L.T. Pivert, among many others. Lalique's original perfume bottles are now sold at auction for hundreds of thousands of dollars. His children Suzanne, Marc and Marie-Claude carried on his legacy, adding even more iconic pieces to their father's collection, such as the bottle for Nina Ricci's Air du Temps designed by Marc in 1947. In 2011, a museum permanently displaying over 650 pieces of René Lalique's and his successors' works opened its doors in Wingen-sur-Moder.
Photos Credit: Les flacons à parfum Lalique by Mary Lou and Glenn Utt. – La Bibliothèque des Arts, Paris, 1990