Iberchem Around the World – India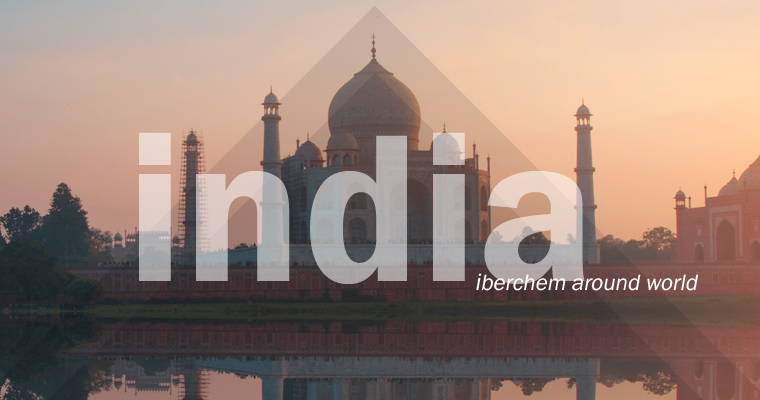 After taking you to Indonesia, the second destination on our "Iberchem Around The World" series is India.
India is a vibrant country counting on a rich historical heritage, a diverse culture, and an exceptional flora and fauna (It is estimated to be over 50,000 species of plants in India). After several years of commercial activity, Iberchem successfully opened a first factory in Ahmedabad in 2010. More recently, the company announced the opening of a new creative centre in Mumbai in response to the growing demand of the market.
India at a glance
India is the world's second most populated country, ranking after China, with over 1 360 million inhabitants. If the trend continues, the peninsula is expected to become the world's most populated country by 2050, with a population verging on 1 650 million inhabitants. In 2017, 33,5% of India's population lived in urban areas such as in the capital, New Delhi, leaving a whopping 66,5% to the countryside.
---
Did you know?
"India's population is surprisingly young; the average age is of 27,9 years old."
---
While Hindi is the most spoken language, it is not the official one as no language was given such a status in the Indian constitution. As for English, it is commonly used for political and commercial conversations. As a matter of fact, India is the world's second-largest English-speaking country, with around 125 million people speaking the language.
India's fragrance market
Being such a populous country, it comes as no surprise that India ranks as the third-fastest growing market in the world of beauty. As for fragrances, the sector has seen high double-digit growth over the past two years. According to industry estimates, the overall size of the Indian perfume industry is currently estimated at $US 275,6m, projected to grow by 50 per cent by the year 2020. As for the online perfume market, it is estimated at $20,4m and projected to grow by approximately 120% by 2020.
---
Did you know?
Shampoo was invented in India, not the commercial liquid ones but the method by use of herbs. The word 'shampoo' itself comes from the Sanskrit word champu, which means to massage.
---
With the rise of millennials and generation Z as influent consumers, new trends are obviously emerging. More than often, these new generations of consumers not only want a simple fragrance: they look for a product that also corresponds to their personal values. For instance, in the recent years, we have observed a rising demand for natural and organic fragrances as well as for vegan perfumes. This does not come as a great surprise considering that in 2017, according to a study conducted by the OECD, India was the country with the lowest meat consumption per capita.
Want to know more about the world of fragrances in India?
Over the next weeks, we invite you to learn more about our presence in India through photos and interviews with our local teams. We will also be publishing articles presenting amazing facts and stories regarding fragrances in this beautiful country.