Beautyworld Middle East 2022: Iberchem To Collaborate With Award-Winning Visual Artist Sonu Sultania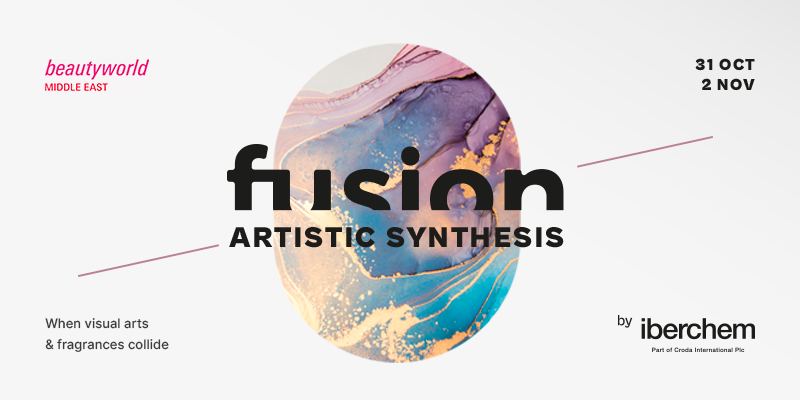 A NEW OLFACTORY CONCEPT EXPLORING THE CONCEPT OF ARTISTIC SYNTHESIS.
On the occasion of the 2022 edition of Beautyworld Middle East in Dubai, fragrance house Iberchem will be presenting "Fusion: Artistic Synthesis" a new olfactory concept combining the disciplines of perfumery and painting. To do so, Iberchem will be counting on the participation of award-winning Indian artist Sonu Sultania, who will offer a live performance during the show.
Iberchem is well-known for mixing perfumery with other art forms. Over the past years, its team has explored the links and synergies between perfumery and different disciplines such as cinema, music, photography, visual arts, and even food (see World of Scent Experience at Beautyworld 2021). This year, Iberchem has redesigned its approach to the concept. Instead of creating fragrances based on an artwork, it has invited an artist to give her interpretation of six original fragrances created by its perfumers.
"Artistic synthesis consists in the uniting of different art forms into an artistic whole," said Guillaume Audy, Corporate communications director at Iberchem. "There is much to learn and explore at every crossroads created by the mix of perfumery and other artistic disciplines. They represent unique occasions to lift the creativity of our perfumers. However, this year, we have decided to do the opposite. We have invited visual artist Sonu Sultania to create live during the show a series of artworks based on six fragrances created for the occasion."
"I am highly enthusiastic about having an artist paint my perfume," explained Ana Gomez, perfumer in the Middle East for Iberchem. "We often try to illustrate a scent with words and analogies, but it will be the first time that one of my fragrances will be described using art. I am eager to see the result."
After the show, Sonu's artworks will be auctioned to charity. All profits will be donated to S.O.S. Children villages Spain, which Iberchem has been supporting for many years. In November, more details about the auction will be communicated on Iberchem's social media platforms.
About the artist
Sonu Sultania is an award-winning contemporary artist with almost ten years of experience and is currently based in Dubai. Born and raised in India, she specializes in abstract & contemporary ink painting. Having lived in several countries, Sonu uses traveling as an opportunity to explore and delve into the cultural influences and origins of the art produced in those communities. She was awarded many prizes and distinctions throughout her career: she won the second prize at the 2022 Ras Al Khaimah Fine Art Festival. In 2020, she figured in the top 10 Emerging Artists of the year by Rove Hotels & World Art Dubai and won second place at the Kobo art Competition. She also won first place at the noon Art Awards in 2019 and World Art Dubai in 2018.
Visit: www.sonusultania.com