Fragrance Diaries: Visting a Nutmeg Plantation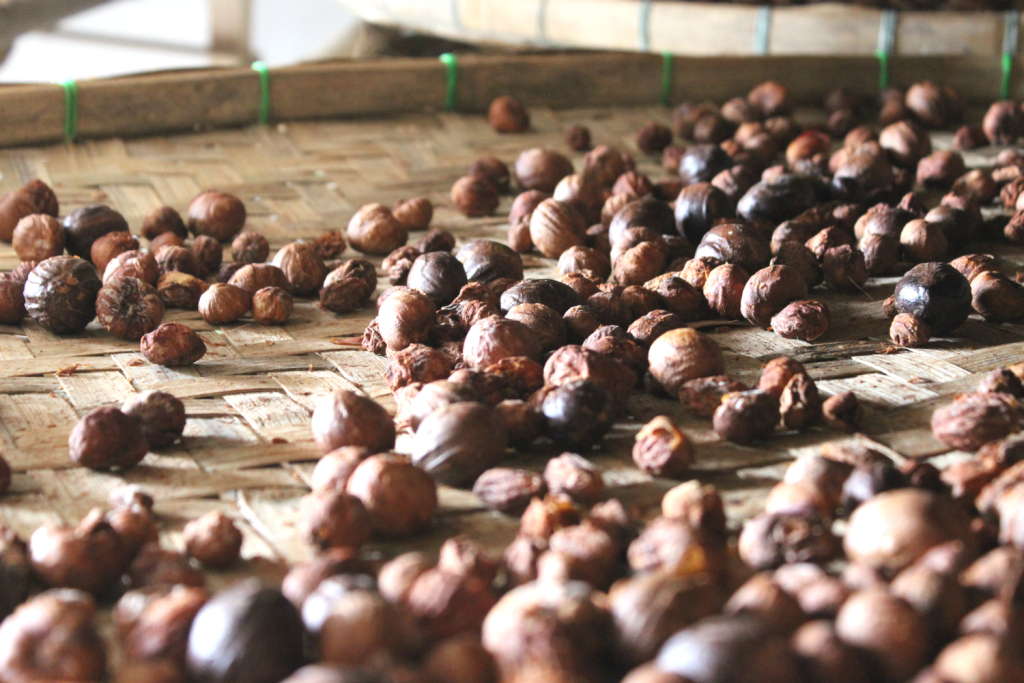 What follows is a report of the trip taken by Guillaume Audy, Corporate Communication manager at Iberchem, together with Didier Parizot, General Manager of Iberchem Indonesia, to a nutmeg plantation in Java, Indonesia.
On our way to a nutmeg plantation
As usual in Greater Jakarta, our day started (and ended) in traffic. It took me almost an hour to travel the 15 km separating my hotel to the meeting point where Mr Thomas Artanto and Ms Yosefa Hanijadi, the general manager and the managing director of PT Aroma Essence Prima, were already waiting. Before heading to one of their nutmeg plantations south of Bogor, we made a first stop at their office located in South Tangerang. Over the course of what felt like a short hour, they introduced us not only to the world of nutmeg, but also to that of patchouli, clove, vetiver and massoia bark, which they also cultivate and manufacture the essential oil.
A two-hour drive separates the office from the closest nutmeg plantation. As we drove, the clouds in the sky started to grow thicker and darker.
"Hopefully it won't rain," said Mr Parizot,
"We normally have a few showers in the afternoon," answered Mr Artanto. "It would actually be more unusual at this time of year [early April] not to get any rain!"
Away to our left, we caught our first glimpse of Mount Salak. It looked majestic. Its head was half hidden in the clouds while its slopes graciously dropped into a rug of tropical forest. The scenery was quite startling considering that not so long ago we had been surrounded by cars and concrete.
The further we got, the narrower the road became and the lusher the vegetation. After passing a series of small villages, we finally reached the country lane leading to the plantation.
On our arrival, we were greeted by Roni and Jajat, both workers on the plantation. After introducing ourselves quickly, we wandered through the land until reaching the first nutmeg tree where Mr Atanto and his wife explained to us a little more about the use and cultivation of nutmeg.
Nutmeg in fragrances
Nutmeg is an ingredient commonly used in the world of fragrances. It provides a warm-spicy-sweet profile, widely appreciated by the public. It is the perfect alternative to the clove-cinnamon-vanilla combination for a perfumer who's looking to add subtle hints of spiciness to a fragrance. Among the many perfumes in which nutmeg can be found are Fahrenheit by Dior, Eau d'Issey by Issey Miyaki and CK One by Calvin Klein.
Harvesting nutmeg
Also known as the Myristica fragrans, the nutmeg tree was originally cultivated exclusively in the Maluku Islands until the 19th century. This dark-leaved evergreen tree can grow up to 50 feet tall. The nutmeg tree is dioecious and only the female tree can bear fruits. It takes approximately eight years for the first fruits to appear, and up to 25 years for the tree to reach its prime. A single mature tree can produce up to 2,000 nutmegs per year over a lifespan of about 60 years. There are usually two peak periods for harvesting nutmeg: January to March and June to August.
The distillery
Mr Atanto was about to finish his presentation about nutmeg when the first drop landed on my face.
"I guess now is a good time to visit the distillery!" he exclaimed.
Coming from outside, the distillery first seemed pretty dark, until my eyes adjusted. A sweet, pungent aroma hung heavily in the warm air, quite a contrast to the green-earthy-humid bouquet outside. Roni and Jajat were both there, taking notes on a pad. In one corner, logs were burning in an imposing cylindrical oven. On the opposite side, in two tanks almost twice my height, some massoia bark was halfway through its distillation process. Ms Hanijadi took a sample to have a first look at its quality. The extract was dark brown in colour, making it look almost like maple syrup. A bit more explanation about the product followed, before we all headed to the drying room, where the nutmeg (as well as mace) is dried before being distilled.
It was the last stop of our tour. After saying goodbye to Roni and Jajat, we jumped into the car and drove straight back to Jakarta.
This wonderful experience helped me fully realise that the creation of a perfume starts way before the work of the perfumer in his office. Beyond its scent, a single fragrance consists of a harmony of natural and cultural references from all around the world. It is also the result of the work of thousands of individuals, all making each note, each accord possible.
Iberchem would like to thank PT Aroma Essence Prima for their hospitality and making this article possible.